xkcd
Today's shirt:

xkcd is an awesome web comic. If you're not reading it, you should be. Its tagline is "A webcomic of romance, sarcasm, math, and language." How can it not be good?
My favorite xkcd: (maybe. so many of them are so good.)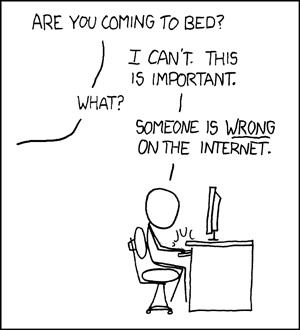 Don't forget to mouseover the comic image for the additional text. Also, do that on every xkcd comic you ever read.
Purchased from: xkcd store
Purchase date: Jan 2, 2008.
Posted by
alan
to [
geek
,
t-shirts
] at 1:41 pm PT |
Link
|
Comments (0)